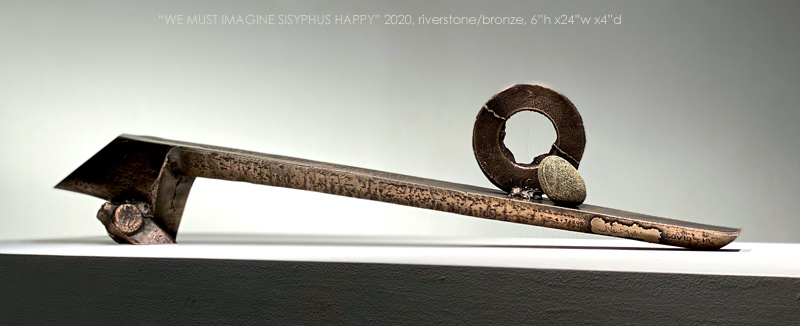 "WE MUST IMAGINE SISYPHUS HAPPY" 4-2020, bronze and riverstone, 6"h x27"w x4'd (15 x8 x10 cm)
"THE ONLY WAY TO FIGHT THE PLAGUE IS WITH DECENCY" ... "THE PLAGUE" 1947
The Plague by Albert Camus
Written from the perspective of a doctor in a small town, The Plague portrays how an epidemic or pandemic strips away the relentless focus on material wealth and success and lays bare what really matters: human relationships, care, connection.

Like many of us who have recently returned to that classic, I am struck by its relevance today.
Anything can become the plague, anything can prevent us from being open to the deeper realities of life.
JVA , June 2020
"ONE MUST IMAGINE SISYPHUS HAPPY" ... "THE MYTH OF SISYPHUS" 1942
Albert Camus
Sis·y·phus


Pronunciation: 'si-s&-f&s
Function: noun
Etymology: Latin, from Greek Sisyphos
: a legendary king of Corinth condemned eternally to repeat the cycle of rolling a heavy rock up a hill in Hades only to have it roll down again as it nears the top
more info
artist statement - Sisyphean Series